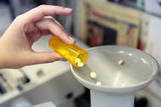 Using data drawn from queries entered into Google, Microsoft and Yahoo search engines, scientists at Microsoft, Stanford and Columbia University have for the first time been able to detect evidence of unreported prescription drug side effects before they were found by the Food and Drug Administration's warning system.
Using automated software tools to examine queries by six million Internet users taken from Web search logs in 2010, the researchers looked for searches relating to an antidepressant, paroxetine, and a cholesterol lowering drug, pravastatin. They were able to find evidence that the combination of the two drugs caused high blood sugar.
The study, which was reported in the Journal of the American Medical Informatics Association on Wednesday, is based on data-mining techniques similar to those employed by services like Google Flu Trends, which has been used to give early warning of the prevalence of the sickness to the public.
See on www.nytimes.com