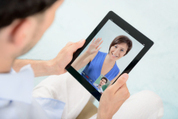 For a new generation of patients, could the laptop — or even cellphone — replace the stereotypical shrink's couch? A crop of new startups wants to take psychotherapy into the 21st century.
About one in five Americans will experience a mental health challenge during their lifetime, according to the Substance Abuse and Mental Health Association. But experts say that 60 percent of them will never seek help. The lack of available care, inconvenience and cost are all barriers to access, but so is the fear of prejudice and discrimination from friends, family and even employers.
"Stigma and shame is a huge factor – maybe the most important one," said Oren Frank, founder of mental health startup Talktala. "People who have been to regular therapy are less ashamed of it, but people who are newcomers are paralyzed by fear."
Online options enable people to receive therapy on their own turf and terms, without needing to update others on their whereabouts – and they offer the benefit of anonymity.
See on gigaom.com