See on Scoop.it – Health Care Social Media Monitor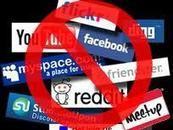 In this age of technology, healthcare social media is becoming an all new important and emerging part of medicine. One that until recently, I didn't even realize existed. Training programs all across the country, at least in my neck of the woods, are censoring how their residents and fellows are using their resources. What do you think about unlocking their social media access while at the workplace and opening this up as an avenue for education and growth? In this new generation of healthcare social media networking, maybe "access denied" isn't just prohibiting trainees from posting their favorite Harlem shake video on hospital time. Maybe it is actually prohibiting the the expansion of educational opportunities in the modern age. It's time that medical education answer the call of this tremendous opportunity.
Marie Ennis-O'Connor's insight:
Rebecca Hastings, D.O. is a Pulmonary, Critical Care Fellow.
She is on twitter @RR_Hastings.
See on caduceusblog.com