See on Scoop.it – Health Care Social Media Monitor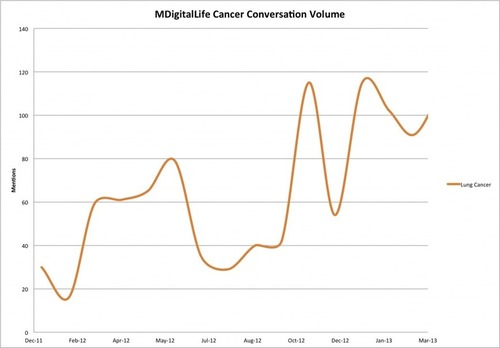 One of the key findings of the MDigitalLife Social Oncology Report 2013 was that cancer conversations have become increasingly fragmented, specific and specific and sophisticated. The number of journal articles posted to PubMed has increased 349% since 1999 – and the number of cancer-related conversations has exploded in similar fashion. As those cancer-specific conversations continue to grow, we wanted to take a closer look at the physicians who are driving them. This is the first in a series of 4 posts on the subject, which will hone in on doctors' conversations about breast cancer, gynecological cancers, prostate cancer, skin cancer, and lung cancer.
Marie Ennis-O'Connor's insight:
Interesting findings:
While breast cancer does drive the largest volume of physician conversations, the difference is not nearly so severe as it is among the general populace – and in fact is now rivaled by prostate cancer and skin cancer.The fastest-growing conversations are around gynecological cancers, and focus primarily on the issue of HPV vaccine. It will be interesting to monitor whether the awareness levels afforded these cancers (especially cervical cancer) during this period are sustainable, or whether they'll fall to 2012 levels.Skin cancer conversations are highly seasonal, and reflect the fact that physicians have done an excellent job of focusing on the "high-risk, low-effort" prevention topics that make up so many of our ailments (e.g., wear sunscreen, give your kids swimming lessons, make sure to vaccinate your kids, etc.)Lung cancer, despite continuing to represent an enormous health risk, is lagging in terms of effective advocacy – due, we believe, to the current political incorrectness of its common association with smoking.
See on blog.wcgworld.com