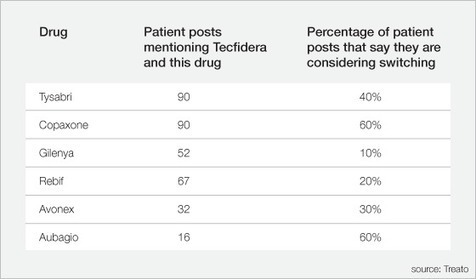 Social media can predict the success of a new drug launch much faster than traditional methods. Many pharmaceutical companies try to measure the success of their launch based on weekly script trends. The difference between social media data and data derived from prescriptions is significant: social media data can predict the future, while script data record the past.
Social media can also, to some degree, explain events and not just record them, since patient posts are much more nuanced than purchase data, often sharing the why and not just the what.
Using older methods, it can take years to understand the result and impact of a new drug launch. Today social media can provide early vital signals in real time.
To illustrate this, let's look at Tecfidera (formerly called BG-12 during clinical trials), a new multiple sclerosis drug that Biogen launched on April 13 [through an examination of the patient voice from billions of patient-written social media posts on over 2,000 health blogs and forums].
Interestingly, since the launch of Tecfidera in mid-April, the most talked about MS drug in social media has been Tecfidera, bypassing all other MS medications and growing on a daily basis. We also see significant differences between Tecfidera discussions and that of other MS medications in that 36% of the Tecfidera discussions are on Facebook while for other MS medications only 28% of the discussions are taking place on Facebook (our analysis does not include Twitter).
See on treato.com